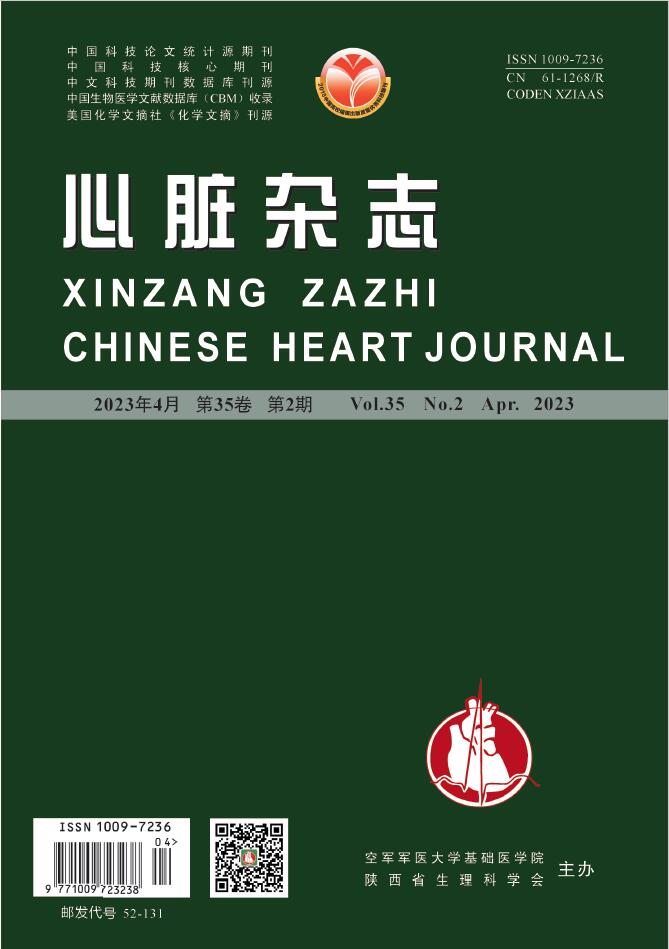 Launched:February 1989
Editor-in-Chief:PEI Jian-ming
ISSN:1009-7236
CN:61-1268/R
Supervisor: Air Force Medical University
Sponsor: Medical Informatics Association Shaanxi Provincial Association for Physiological Sciences
Articles in press have been peer-reviewed and accepted, which are not yet assigned to volumes /issues, but are citable by Digital Object Identifier (DOI).
[Abstract]
(
13
)
[FullText HTML]
(
4
)
[PDF 2226KB]
(
5
)
Abstract:
AIM To investigate the effects of pattern recognition receptor NLRX1 on cardiomyocytes upon hypoxia injury and the underlying molecular mechanisms. METHODS Primary neonatal rat ventricular myocytes (NRVMs) of SD rats were isolated and cultured. NRVMs were transfected with NLRX1-siRNA for 48 hours and then subjected to hypoxia and glucose deprivation for different times to simulate myocardial ischemia. Cell viability was determined by CCK-8 kit and cell apoptosis was analyzed with flow cytometry. Protein expression levels of NLRX1 and mitochondrial fusion related proteins (Opa1, Mfn1, Mfn2) were determined by western blotting and mitochondrial morphology was analyzed with laser scanning confocal microscopy. RESULTS NLRX1 was highly expressed in cardiomyocytes. Although total protein level of NLRX1 was not altered, cytoplasmic NLRX1 was up-regulated in NRVMs upon hypoxia and glucose deprivation. Compared with those in control group, NLRX1-siRNA up-regulated expression levels of mitochondrial fusion protein Mfn2 and Opa1, promoted mitochondrial fusion of hypoxic cardiomyocytes and reduced hypoxia induced cardiomyocyte death (P<0.05). CONCLUSION NLRX1 modulates the expression of mitochondrial fusion proteins Mfn2 and Opa1, and the inhibition of NLRX1 up-regulates the protein levels of Mfn2 and Opa1, which contributes to reduced cardiomyocytes injury upon hypoxia.
[Abstract]
(
7
)
[FullText HTML]
(
2
)
[PDF 661KB]
(
5
)
Abstract:
The important task of the military medical colleges is to cultivate high-quality medical professionals. The present study deeply analyzed the problems existing in the teaching incentive system in China's higher education institutions. Taking the teacher incentive strategy of the Air Force Medical University as an example, this paper discussed how to optimize the teaching incentive strategy by strengthening the school's understanding of the importance of undergraduate education, reasonably setting the proportion of teaching and scientific research achievements in teacher grade evaluation, establishing a reasonable teaching effectiveness evaluation system, increasing teaching supervision, promoting the professional development of teachers, establishing a teaching honor system, and a teaching reward system. The results of 194 questionnaires showed that teachers were generally satisfied with the setting of teaching and research indicators in the current professional title evaluation, while young teachers had a stronger and clearer belief in engaging in national defense and health education, and their ability and motivation to engage in education had improved. This article plays a positive role in promoting the establishment and improvement of the teaching incentive system in aerospace military medical colleges.
[Abstract]
(
8
)
[FullText HTML]
(
0
)
[PDF 936KB]
(
1
)
Abstract:
AIM To explore the construction and application of standardized nursing intervention in the diagnosis of patent foramen ovale (PFO) by transesophageal echocardiography (TEE) combined with right cardiac contrast echocardiography. METHODS From November 2020 to August 2022, 180 patients suspected of PFO underwent TEE combined with right heart sonography in the Second Affiliated Hospital of the Air Force Military Medical University were included in the study. The nursing staff participated in the whole process and provided standardized nursing, including personnel education, material preparation, guidance of Valsalva's actions, synchronous cooperation measures related to examination, observation and recording after examination, so as to ensure the smooth completion of the examination. RESULTS None of the 180 patients gave up TEE combined with right heart sonography because of fear and tension. 179 patients successfully completed TEE combined with right heart sonography under two states of calm breathing and Valsalva action. One patient was unable to complete the Valsalva action due to the sequelae of cerebral infarction, and only underwent right heart contrast echocardiography under calm breathing state. Two patients complained of dizziness and palpitation after the examination, which were relieved without special treatment. CONCLUSION During the whole process of TEE combined with right heart contrast echocardiography, scientific, effective and standardized nursing intervention is the key guarantee to better carry out relevant examinations.